Help Us Find Nominees for the Annual 12 Torches Awards
---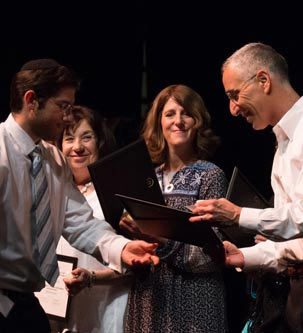 As our community is gearing up to celebrate Israel's 71st birthday, we are looking for 12 local leaders who have significantly contributed to Columbus' connection to Israel to be part of our annual 12 Torches Ceremony. On May 9, we will honor 12 individuals in the Columbus Jewish community who have strengthened the community's connection to Israel and are role models to us all.
"This ceremony is a way for our community to honor lay leaders who work hard through leadership, service and more to promote a strong Jewish community and its relationship with Israel," said Merav Livneh-Dill, senior community shlicha for JewishColumbus.
The Israel & Overseas department is seeking nominations of people who fit the following criterion: have lived in Columbus more than five years, are active in the Jewish community, have a strong connection to Israel and contribute to strengthening the community's connection with the Jewish State, and are role models for others.
If you know of someone who exemplifies these qualities, please fill out the online form . Nominees can be any age, the only requirement is that they must be available and willing to participate in the ceremony. After all nominations are submitted, the committee will select 12 individuals to represent the great diversity and achievements in the Columbus Jewish community. We ask that nominations are limited to five per organization. Please make sure to have nominations submitted by February 22, 2019.
12 Torches Recipients From Past Years
---
2014 12 torches:
Marlana Fireman and Halle Herman
Ariel Cohen and Ori Benatar
Tali Levi
Dan Betzel
Monica Calabrese
Manny Luttinger
Nancy and Dan Rosen
Gail Rose
Rick Barnett
Carole Tennenbaum
Mollie Lakin
Marty Kopp
2015 12 torches:
Jake Davis
Hunter Cohn
Julia Applefeld
Sam Cohen
Julie Saar
Tim Jenkins
Janice Epstein
Irwin Bain
Daniel Cohen
Sussie Blair
Gary Cheses
Ari Berger
2016 12 torches:
Shirly Benatar
Susie Blank
Eran Rosenberg
Dror Karavani
Jacob Portman
Malka Bendor
Gisela Weinstein
Todd Appelbaum
Andrew Smith
Kenny Steinman
Yael Levi
Hany Baransi
2017 12 torches:
Jack Chomsky
Danny Kayne
Annelyn Baron
Shelly Dembe
Bonnie Cram
Arnie Good
Austin Reid
Shahar Razker
Sivan Import
Rabbi Yaacov Goldberg  and Judy Goldberg
David Schottenstein
Julie Cohen
2018 12 torches:
Keith Faber
Katie Feldstein
Hilda Glazer
Jordan Hoffman
Bob Lane Z"L
Merry Lynne Lincove
Fred Luper
Toby Mars and Hadar Karavani
Alyssa Schottenstein
Michael Schottenstein
Pastor David Swaggerty
Don Sylvan