J-SERVE Day of Jewish Youth Service
---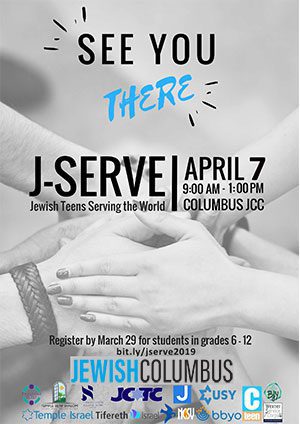 Jewish teens from around the city will come together on Sunday April 7th at 9:00 AM at the Jewish Community Center, 1125 College Ave., to help make Columbus a better place. Transportation will be available for teens from Congregation Beth Tikvah and JCC New Albany at 8:30 AM.
The J-Serve Day of Jewish Youth Service provides teens with a unique opportunity to band together through service as a united global network committed to fulfilling the Jewish values of gemilut chasidim (acts of loving kindness), tzedakah (just and charitable giving) and tikkun olam (the responsibility to repair the world).
After registration and a light breakfast, the Teen Council will welcome and orient the participants. Service projects will consist of a workshop to "Build-A-Bear" for Love and Hugs Zusman Hospice residents, doing arts and crafts or playing bingo with Wexner Heritage/ Creekside residents, making blankets for Children's Hospital patients, building Little Free Pantries, assembling snack packs for Ronald McDonald House, and so much more.
After the service projects, a delicious Israeli lunch will be served along with an Israeli themed party to kick off the countdown to Yom Ha'atzmaut, Israel's Independence Day at 12:15 PM.
Teens in grade 6-12 are encouraged to register online at: http://bit.ly/jserve2019 by March 29th.
The day of service program is sponsored by JewishColumbus and the JCC. The day's events are organized by the Jewish Columbus Teen Council in partnership with BBYO, BJY, Congregation Agudas Achim, CTeen, Friendship Circle, JCTC, NCSY, Temple Beth Shalom, Temple Israel, Tifereth Israel, USY, and Wexner Service Corps.
For more information, contact Halle Schwartz at 614.559.6279.
IT ALL STARTS WITH YOU: JewishColumbus is able to sponsor programs like J-Serve and the JewishColumbus Teen Council because of donors like you who give to our Annual Campaign.