Join Us
Meet the Visionary behind the rebirth of a iconic Israeli Fashion brand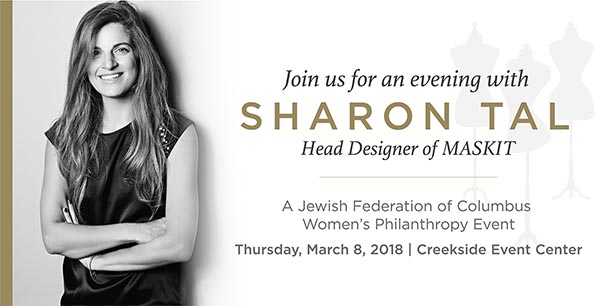 Sharon Tal has worked with some of the most visionary and creative fashion couture houses in the world, including Alexander McQueen and Lanvin. After working at McQueen, Tal returned home to Israel to rejuvenate the legendary and historical fashion house, Maskit. Tal infused new life back into the classic Israeli brand. She is an incredible Israeli entrepreneur, and we are excited to welcome her to Columbus this Spring!
To update you on this event and for  security purposes, we ask for the names and email address of each registration. We respect your privacy and will not distribute this information to any other entity.
Maskit is a luxury fashion brand founded in Israel in 1954 by the extraordinary vision and determination of Ruth Dayan, the former wife of the late general and statesman Moshe Dayan. Ruth created Maskit as a fashion and decorative arts house that created jobs and preserved the ethnic crafts and culture of the diverse communities living in Israel.
Today, the Maskit magic lives on. A two-year journey of research has led the team through the captivating Israeli landscapes to reconnect with Maskit's original artists and roots. Ruth tapped designer Sharon Tal to revitalize the brand and continue its legacy.