The Rules Have Changed…STABLE Accounts
By Jackie Jacobs
On June 1, 2016, Ohio became the first state in the country to launch STABLE accounts, which allow individuals with disabilities to save and invest without losing eligibility for certain public benefits programs, like Medicaid, SSI, or SSDI.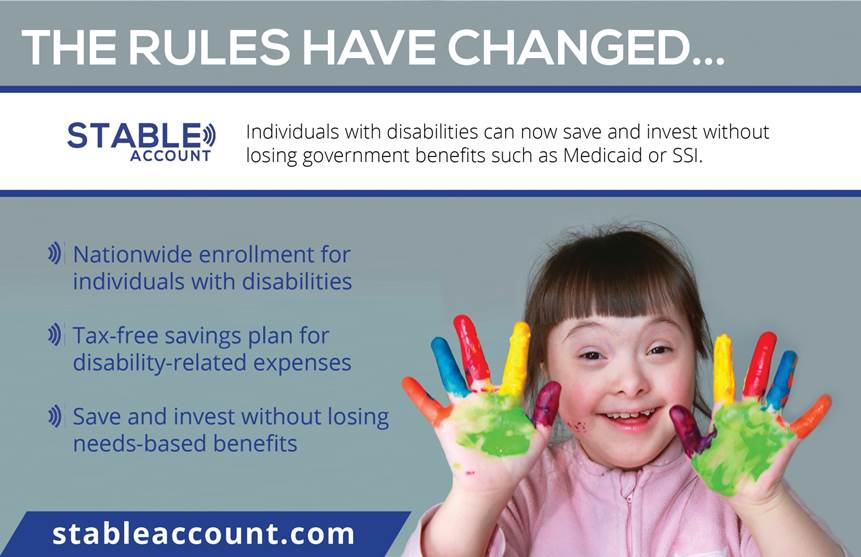 STABLE Accounts are made possible by the federal Achieving a Better Life Experience ("ABLE") Act passed by Congress in 2014. Earnings in STABLE Accounts are not subject to federal income tax, so long as the funds are spent on qualified disability expenses.
STABLE Accounts have similar features to bank accounts, but are also investment accounts, similar to 529 college savings accounts or 401(k) retirement accounts. When a participant deposits money into their STABLE Account, the money can be invested in different investment options selected by the administrator of the account, which could be the participant, their parent, their guardian or their Power of Attorney. While participants can still withdraw and spend money, a STABLE Account also allows money to grow and to save long-term for disability expenses.
The tax-advantaged savings accounts allow families to set aside money to use on qualified expenses such as education, healthcare, housing and transportation. Earnings and distributions from a STABLE Account for qualified disability expenses do not count as taxable income of the contributor or eligible beneficiary.
With STABLE accounts, people with disabilities can save up to $100,000 without losing eligibility for Social Security . Medicaid benefits can be retained up to the program limit, which as of September 2016 was $426,000.
Governor John Kasich signed into law HB 155 last year. It was passed unanimously by both the Ohio House and Senate, authorizing the Treasurer's Office to open and administer these accounts. The accounts are free to enroll online, and there is zero cost associated with the contribution to or withdraw of funds.
"As Treasurer of Ohio I am proud to serve as administrator of STABLE Accounts," said Treasurer Mandel. "By assisting individuals and families with saving and investing, we are supporting persons with disabilities to maintain health, independence and quality of life."
Individuals with intellectual and developmental disabilities are one of the most underserved populations in our country today. The establishment of the country's first 529A ABLE program by the State of Ohio paves the way to provide some economic security for these individuals. "By establishing a STABLE account, parents and guardians an excellent, tax-free way to save for their futures," said Jeff Davis, Director of Government Relations for the Ohio Provider Resource Association (OPRA), a trade association for providers of service to individuals with developmental disabilities. "This is a great opportunity, to help establish financial security for one of our country's most disenfranchised populations," added Davis.
The State Treasurer is so pleased to offer STABLE accounts that his office prepared several public service announcements, one of which is attached, directing readers to a special website about the program. For more information visit www.stableaccount.com.
Article appears as originally published in the Ohio Jewish Chronicle, Thursday, October 27, 2016.
Jackie Jacobs is the Chief Executive Officer of the Columbus Jewish Foundation, the Central Ohio Jewish community's planned giving and endowment headquarters.