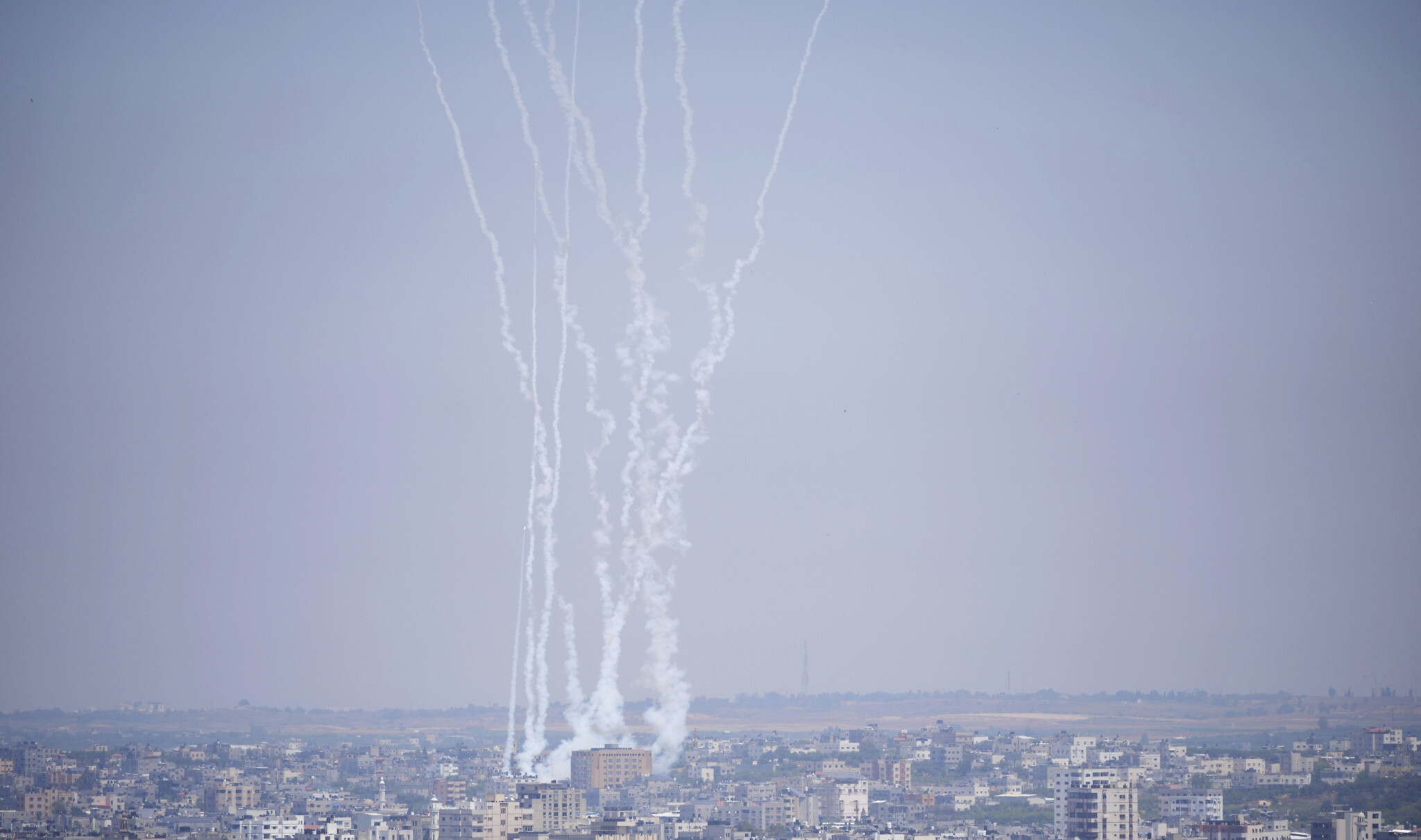 JewishColumbus is committed to keeping you up to date on the latest developments in Israel. Please check back here for the latest updates. For links to more resources regarding Israel please click here.
May 15, 2023 4:00pm EST – Update from Jewish Federations of North America:
An Egyptian-brokered ceasefire between Israel and Palestinian Islamic Jihad (PIJ) took effect at 10:00pm Israel Time on Saturday night. So far, it seems to be holding. Israel's National Security Adviser Tzachi Hanegbi said, "Quiet will be answered with quiet. (But) if Israel is attacked or threatened, it will continue to do everything it needs to do in order to defend itself."
As of Sunday morning, many Home Front Command restrictions in Israel have been lifted.  Life was beginning to return to normal, although schools remained closed in the area close to the Gazan border.
Over the course of five days of fighting, more than 1,200 rockets were fired at Israel from Gaza. At least 220 of these failed to cross into Israel; they landed in Palestinian territory. While many of the rockets that did cross into Israel landed in unpopulated areas, Israel's Iron Dome anti-rocket defense system successfully shot down 373 rockets – accounting for more than 91% of those headed towards civilian population centers. (See here for dramatic photos of Iron Dome knocking a PIJ rocket from the sky).
Despite the high success rates for Iron Dome, a number of rockets did strike their intended targets, hitting numerous buildings and killing two people (an elderly Israeli woman in Rehovot an  a Palestinian laborer working in Israel's south). At least 69 civilians have also been wounded in Israel. Twenty-seven of those people suffered physical injuries–one of them seriously and four of them moderately–from shrapnel and broken glass as a result of rocket impacts. See here for a graph of rocket fire.
In response, Israel struck 371 PIJ terror targets in Gaza, killing six significant Islamic Jihad leaders. A seventh senior leader who was targeted, Muhammed Abu al-Ata, managed to escape an airstrike, and has since operated from within a Gazan hospital. (See here for more on PIJ activities inside population centers). According to the IDF, Israel has killed 18 Islamic Jihad operatives, and sadly, at least 10 Palestinian civilians.
The Hamas-run Gaza Health Ministry claims that the death toll is 33, but this number includes Gazans who were killed by Islamic Jihad rockets that landed inside the Strip. (See here for an infographic on rockets falling short of the border.) Israel has repeatedly stated that it does everything in its power to avoid civilian casualties. Israeli leaders have expressed profound regret at the loss of life.
Deputy Secretary of State Wendy Sherman reiterated the US administration's "enduring commitment to Israel's security," and "strongly condemned the indiscriminate launch of rockets into Israel from Gaza-based terrorist groups, which endangers the welfare of both Israelis and Palestinians."
See here for an analysis piece by The Jerusalem Post's Herb Keinon on how the routine nature of the Gaza-Israel rounds of conflict "is both a problem and a source of comfort," for Israelis.
May 12, 2023 8:50am EST – Update from Jewish Federations of North America:
Despite the optimism in yesterday morning's update that a ceasefire was likely, within a few hours Palestinian Islamic Jihad (PIJ) fired multiple barrages of rockets at Israeli population centers, killing one civilian in the city of Rehovot and injuring others. The rocket attacks continued for a number of hours.  While overnight only sporadic rocket-fire took place, a number of launches remain underway at the time of writing. There is wide-spread speculation that this may be a final volley before a formal ceasefire begins.
In the early evening hours yesterday, a particularly intense round of rocket fire from Gaza caused millions of Israelis to run to shelters, including in major cities in the country's center, such as Tel Aviv and Rishon Letzion. In an apparent malfunction of the Iron Dome defense system (see details here), one rocket hit an apartment building in the city of Rehovot that did not have its own shelters. One person was killed, nine others were injured, and the building suffered major damage. See further details here and here.
So far, more than 880 rockets have been fired at Israel from Gaza during Operation Shield and Arrow, now entering its fourth day. Of these, some 672 crossed the border from Palestinian territories into Israel, with the rest falling short, or landing in the sea. Iron Dome has been activated 260 times, and has had a 91% success rate during the current operation. See here for a PIJ-produced video of a rocket being launched. 12 Israelis have been wounded as a result of the rocket fire and thousands more are suffering from various forms of trauma. Millions have had their lives interrupted. See here for an article about one family's life under fire.
Meanwhile the IDF continued to strike PIJ military targets, and says that the terrorist organization has suffered a major blow, including losing many of its top commanders. In total, 170 terror targets have been hit. See here for a video of the IDF striking a PIJ military post and here for footage of a strike on a mobile rocket launcher. The Palestinian Ministry of Health in Gaza says that 31 people have been killed in Israeli strikes since fighting began. According to the IDF, at least four Palestinians have been killed, including children, as a result of failed rocket launches from Gaza. See further details here.
According to media reports, strong efforts are still underway to finalize a formal ceasefire, under Egyptian mediation. In an indication of the country's willingness to de-escalate, Israeli officials have repeatedly stated that "quiet will be met with quiet." See more here.
Jewish Federations' partners, including the Jewish Agency for Israel, JDC, and the Israel Trauma Coalition, are addressing needs on the ground. The Jewish Agency's Fund for Victims of Terror is providing immediate financial support to families whose homes were directly hit by rocket fire and is helping them with urgent needs. In addition to aid provided by the Government of Israel, the fund also grants supplementary aid to families affected by rocket fire, assists with rehabilitation needs, and addresses the needs of children and families dealing with post-traumatic stress. The Fund, which operates thanks to donations from Jewish Federations and others, was established 20 years ago and to date has supported 9,000 families affected by terrorist incidents and rocket fire, with grants totaling $20 million. Since the beginning of this year, the Fund has awarded grants to the residents of the Gaza border and victims of terror attacks totaling $220,000, and has also run special camps for approximately 350 children and teenagers dealing with post-traumatic stress disorder.
The Israel Trauma Coalition (ITC), another Federation partner, reports that close to 60% of residents living near the Gaza border have temporarily left their homes and are staying in areas further away from the conflict. ITC says the number of calls to trauma help lines have more than doubled in recent days, with the city of Sderot seeing the highest number of calls, by far. ITC says that the majority of the calls come from parents looking for advice as to how to calm their children. Due to the security situation, most trauma care is taking place over Zoom, but professionals visit homes in person where rockets have fallen within close proximity.
May 11, 2023 9:25am EST – Update from Jewish Federations of North America:
A shaky unofficial ceasefire marred by intermittent rocket launches seems to be holding in Israel after two days of massive rocket fire against Israeli targets, which themselves followed Israeli Defense Forces' attacks against terrorist leaders and infrastructure in Gaza. (See our update from yesterday here).
Since Operation Shield and Arrow was launched on Tuesday morning, some 500 rockets have been fired from Gaza towards Israel. Over 100 of these failed to cross the border into Israel and fell in Palestinian territory.  Approximately 150 were intercepted by the Iron Dome rocket defense system. In addition, one rocket was intercepted by the newly developed David's Sling, an advanced missile defense mechanism jointly developed by Israel and the United States. This was the first time that David's Sling, which costs around $1 million per firing and which was designed to intercept longer-range, more powerful and more advanced rockets (such as those that could potentially be shot from Iran) has been used in a live combat situation. For more details about the strikes, see this infographic from the IDF.
Despite the massive rocket fire, no deaths were reported in Israel, although 32 people were treated for shock and minor injuries. The Palestinian Health Ministry in the Gaza Strip reports that 25 Palestinians have been killed and 76 others injured since hostilities began on Tuesday morning. Most of these were combatants, including at least four senior commanders of the Palestinian Islamic Jihad (PIJ) terror group, with a number of innocent bystanders unfortunately also killed. Israeli government and military spokespeople have expressed deep regret over all civilian casualties and stressed that the IDF takes every possible precaution to avoid such deaths.
For example, this video shows the Israel Air Force aborting a strike at the last moment when a child is spotted near the intended terror target. Israel says that it has carried out strikes against 158 sites belonging to PIJ, including hitting this observation post used to guide rockets, and this rocket manufacturing facility. Ali Ghali, who directed PIJ's rocket launches, was among the combatants killed in Israeli airstrikes.
A major difference between the current round of strikes and previous fights has been the absence of Hamas from the conflict. Attacks have exclusively involved Israel and PIJ. Some commentators have suggested that this has been a significant factor in the outcome, as you will read in this article.
While no formal cease-fire has been announced, unofficial sources have confirmed that a Egyptian-brokered agreement was reached. According to Palestinian media, the agreement includes a promise by Israel to hand-over the body of Khader Adnan, a senior PIJ member who died in an Israeli prison last month. His lengthy hunger strike was the apparent trigger for this round of fighting.
Since the early hours of this morning, there has only been sporadic rocket fire. According to Israel's Finance Minister Bezalel Smotrich, "From our perspective if they stop firing at us, there's no reason to continue." Despite the apparent ceasefire, numerous precautionary restrictions remain in place, particularly for residents of Israel's south.
Meanwhile, the elderly mother of Israel's Defense Minister Yoav Gallant, Mrs. Fruma Gallant, passed away early this morning. Mrs. Gallant was a Holocaust survivor who came to Israel on the Exodus ship.  Despite his loss, the defense minister is continuing to play a key role in managing the crisis.
Jewish Federations' partners, including the Jewish Agency for Israel, JDC, and the Israel Trauma Coalition, are addressing the needs on the ground. The Jewish Agency's Fund for the Victims of Terror is providing grants to five victims, including to a three-year-old boy who sustained a head injury while running to a shelter. They are also helping the residents of four houses damaged by rocket fire and are providing respite outside the conflict zone for families in absorption centers.  Please be in touch if you are interested in learning more about supporting these needs.
A total of 112 recently arrived Ethiopian olim who were meant to be housed in the Jewish Agency's Ibim Absorption Center in the south have been temporarily sent to the Nir Etzion Center in Israel's north. At the same time, while rocket fire continues, four Masa programs have been moved from the south to the Jerusalem area.
May 10, 2023 10:25am EST – Update from Jewish Federations of North America:
In the past few hours (at the time of writing) more than 200 rockets have been fired at Israel. While most were directed at population centers in the country's south including the cities of Ashkelon, Ashdod and Sderot, there have also been multiple rockets that targeted the central region, including Tel Aviv, Bat Yam, Ramat Gan, Rishon Le'Tzion and Holon. Millions of Israelis have been forced to run to shelters as sirens sounded repeatedly in dozens of locations.
At this early stage there are no reports of major injuries, but the situation is still unclear, and people have been treated for shock and minor injuries. The Iron Dome system has been working and has successfully knocked out most rockets that were headed for civilian population centers. As the rocket fire continues, Israel's Prime Minister Benjamin Netanyahu warned the terror groups that, "We are ready for the possibility of an expanded campaign and harsh strikes against Gaza."
Israel has been on high alert since its air force struck three senior terror commanders from the Palestinian Islamic Jihad (PIJ) group, who were responsible for numerous terror attacks, including over 100 rockets fired last week at Israeli cities. Since yesterday's update, we have seen unconfirmed reports that up to 10 civilians were also tragically killed, likely including family members of the terrorists.
Commenting on this, Prime Minister Netanyahu said late last night, "This morning's targeted strikes became possible after our intelligence agencies provided precise intelligence that allowed us to reach these mass murderers before they could launch additional terrorist attacks. As always, Israel tried to minimize civilian casualties, and the State of Israel regrets any harm caused to non-combatants. The difference between Israel and our enemies is that we make every effort to keep the enemies' civilian population out of harm's way, while our enemies make every effort to deliberately target our civilians. We mourn the loss of innocent lives."
Defense Minister Yoav Gallant stressed how far-reaching precautions are taken by the IDF to avoid civilian casualties at all costs. He added that, "In the fight against terrorism, the State of Israel operates within the framework of a pre-planned, in-depth strategy and policy. We do not act on impulse. In every action we take, we implement our national strategy and policy in accordance with the interests of the State of Israel." He also pointed out that one of the terror leaders who was killed, Jihad Ahnam, was responsible (among many other attacks), for the murder at Kissufim of Tali Hatuel, who was eight months pregnant, along with her four daughters.
The Israel Defense Forces have also continued to strike at PIJ terror targets in the Gaza Strip, focusing mainly on rocket launch sites. See here for footage of IDF strikes against rocket launchers, and here for video of an attack on a PIJ car taking missiles to a launch site.
Jewish Federations of North America have been working closely with the government and our partners on the ground. In a meeting held yesterday with the IDF's Home Front Command, it was announced that special respite services will be provided to the residents of 25 small communities close to the Gaza border as well the city of Sderot. Services will include respites opportunities to be held out of the region for 72 hours and will include the provision of food and accommodation. Each community is arranging for its residents to go to specific hotels. Some 60% of residents close to the border have already left either under the program or of their own accord.
Other Jewish Federations' partners, including the Jewish Agency for Israel, JDC and the Israel Trauma Coalition are busy assessing needs on the grounds and making necessary arrangements. World ORT's Kfar Silver school has been evacuated due to multiple rocket attacks in the area.
On a separate note, in Tunisia overnight, two Jews were killed in a possible terror attack. While details are still somewhat unclear, we do have some information.
While the Tunisian Jewish community only numbers around 1,500 today, many Jews, especially those of Tunisian descent (the community numbered over 100,000 until the 1950s), visit the country and its synagogues, especially to mark the Lag Ba'Omer holiday (yesterday) where a pilgrimage takes place at the Djerba Synagogue.
It seems that hundreds of Jews were at the synagogue yesterday, when a guard from the nearby Naval School killed a soldier and then headed over to the synagogue where he opened fire outside. Two Jewish worshippers and four Tunisian security guards were killed, and at least nine were injured. One of the pilgrims killed was also an Israeli citizen. The attacker was eventually killed by police, but those inside the synagogue were forced to remain barricaded inside for a number of hours. While likely, it has not yet been confirmed that this was a terror attack. See some footage here, and find our post on social media here.
We also know that US Ambassador to Tunisia Joey Hood visited the synagogue on Monday along with the US envoy for monitoring and combating antisemitism, Deborah Lipstadt.
May 9, 2023 9:35am EST – Update from Jewish Federations of North America:
Overnight, the Israel Defense Forces launched a significant series of strikes against the Palestinian Islamic Jihad (PIJ) terror group, who it holds responsible for many of the recent attacks against Israel, including last week's round of over 100 rockets fired at the south (see Jewish Federations' update from last week here). The current operation is known as "Shield and Arrow," an apparent reference to the traditional bows and arrows associated with the Jewish festival of Lag Ba'Omer that is celebrated today.
At the time of writing, there have been no attacks from PIJ or other movements in response to the airstrikes, although most assessments suggest that rocket fire from Gaza is likely, possibly alongside rocket or other attacks from Lebanon or Syria; as well as terror activity in the West Bank. Israel's Defense Minister Yoav Gallant has announced the call-up of limited IDF reserve units, and schools in the south will be closed tomorrow (there is no school today due to the Lag Ba'Omer holiday). Train services in the country's south are limited, beaches in the region closed, and public bomb shelters have been opened across the country. See here for footage of critical units at Ashkelon's Barzilai Hospital being moved to shelters, in this case, the neo-natal intensive care. The hospital has also suspended non-emergency procedures.
During the early morning hours, Israel Air Force strikes against PIJ in the Gaza Strip, saw at least 12 Palestinians killed and 20 wounded. The officials killed in the strikes include the commander of the al-Quds Brigades in the northern Gaza Strip, Khalil Bahitini who was the most senior operational commander in the terror movement and was responsible for recent rocket fire against Israel. Also killed were Tareq Ezzaldin, who manages terrorist activities in the West Bank and Gaza, and Jihad Ahnam, secretary of the movement's military council. (See here, here and here for information from the IDF about the three senior PIJ leaders who were killed).
According to PIJ, a number civilians were also killed in the strike. The IDF Spokesperson explained that the defense forces went to extraordinary lengths in order to avoid civilian casualties. He stated that, "This is about professionalism in planning and precision in execution that led to this operational achievement. This is planning with tweezers in the heart of a civilian population-a targeted assassination in a multi-story building in a dense area, seconds between the impact, a very narrow time window and at 2 a.m. all the buildings are attacked and the three operatives are killed."
The IDF also struck numerous PIJ terror infrastructure sites including rocket production facilities and a number of military compounds. See footage from the ground of one of the strikes here, and IDF footage here. The IDF Spokesperson, while not ruling out ongoing strikes, has indicated that the operation may be limited, saying, "At this stage, we achieved what we set for ourselves, we hit those needed."
Prime Minister Netanyahu has been meeting with Defense Minister Gallant, and will also brief Opposition Leader Lapid today. Lapid earlier backed the government's actions saying "I give my support to the security forces for this operation against the Islamic Jihad in Gaza. This morning, terror groups in Gaza know that the intelligence community and the security forces are following their every move and every step and the score will be settled. An Israeli response at the time and place of our choosing is the way to deal with terror from Gaza. We will support any operation to defend the residents of the south." The Security Cabinet is scheduled to meet Tuesday evening to discuss further measures.
For the last week, the Otzma Yehudit Party, led by Itamar Ben Gvir, had been boycotting Knesset votes and government meetings in protest at what they saw as the government's weak response to recent rocket fire. A short while ago, Ben Gvir announced that as a result of today's strikes, his party would resume full participation in the government.
Also today, the IDF has carried out a number of raids in the West Bank to arrest known terrorists and confiscate weapons. At least eight terrorists were arrested, and significant firefights took place, although there are no reported major injuries on either side. See here for pictures of some of the weapons captured and here for footage from the raids.
Jewish Federations of North America's partners, including the Jewish Agency for Israel, JDC and the Israel Trauma Coalition are busy assessing needs on the grounds and making necessary arrangements. A group of Ethiopian olim set to arrive in Israel later today, will not be housed in absorption centers in the country's south.
Jewish Federations are in close contact with all of our relevant partners as well as Israeli government bodies, preparing for any further escalation. Later today, Jewish Federations will attend a briefing with the IDF's Homefront Command for groups involved in any emergency relief efforts that may be needed.