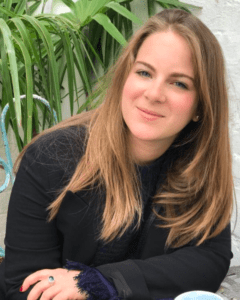 Lauren Nemerovski Joins JewishColumbus to Fight Antisemitism and Promote Education
JewishColumbus is excited to announce the appointment of Lauren Nemerovski as their newest Manager of Israel & Community Relations. Nemerovski brings a wealth of experience and passion to her role.
Originally from Chicago, IL, Nemerovski moved to Aspen, CO at the age of 13 before attending the University of Michigan where she earned a Bachelor in International Relations and Political Science and a minor in Judaic Studies with a concentration on the Holocaust. She later earned her Masters with a focus in Security and Diplomacy from Tel Aviv University. 
While living in Israel, Nemerovski worked as a legal assistant for the Money Laundering and Terror Financing Prohibition Authority within the Ministry of Justice and focused on counter-terrorism techniques and intelligence. "Those who have never been to Israel may not realize just how much Israel's counterterrorist intelligence means to the world." said Nemerovski, "It was fascinating, comforting, and surprising how much Israel plays a role in it. It was even more amazing to experience the work firsthand." 
If her education and training weren't enough, she interned at the US Holocaust Museum and had a fellowship with the Israeli government. 
Nemerovski's experience, talent and passion for uplifting Jewish communities and combating antisemitism make her an excellent fit for JewishColumbus. In her role as Manager of Israel & Community Relations, Nemerovski is organizing educational and social events while creating resources for kids that are focused on how to work through being targeted and how to talk to loved ones about antisemitic beliefs. She will also be working with ADL on antisemitism and Holocaust training for other organizations and businesses in Columbus.
During the COVID-19 pandemic and with the 2021 Israel-Palestine crisis, Nemerovski saw comments and graphics that were being shared on social media which made her even more aware of how much antisemitism is embedded into our society. This experience just made her even more impassioned to raise awareness and fight back.
Nemerovski is excited to bring her unique background and perspective to JewishColumbus.  "Combining my experience in Israel engagement, Holocaust education, and fighting antisemitism feels like a natural fit for me," she said. "I'm passionate about this work because antisemitism never truly goes away. It's viewed differently than most other hate towards groups and has become more intertwined into society over time. Never again is no longer (just) a commitment to prevent history from repeating itself, it is a call to action, and I want to help drive that action forward the best that I can."
In her spare time, Nemerovski enjoys doing anything outdoors, hiking, skiing, cooking, going to concerts and spending time with her dog, (Kent), friends and family. We can forgive her for being a Colorado Avalanche fan for now but will be taking her to an OSU football game soon. She is excited to explore all that Columbus has to offer and is looking forward to contributing to JewishColumbus' mission of promoting Jewish education and fighting against antisemitism.
To reach out to Lauren Nemerovski, please email Lauren@jewishcolumbus.org.
Welcome to the team!