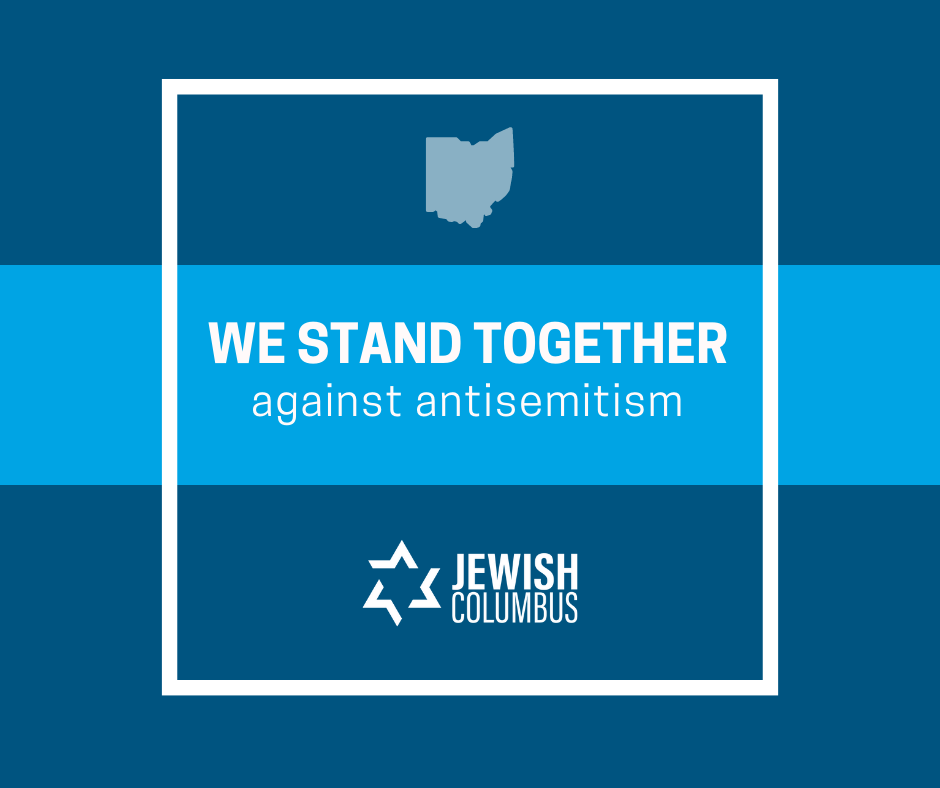 Dear Community,
JewishColumbus was informed of a credible antisemitic threat from a private security guard employed at Columbus Torah Academy. Law enforcement identified the source and took necessary steps to nullify the threat. We commend and thank the quick-thinking law enforcement officials at local, state and national agencies. Their training, planning and professionalism prevented what could have been a tragedy.
Making sure Jews can live safely as Jews is our top priority at JewishColumbus and we will remain in close contact with our law enforcement partners as this investigation continues. We strongly believe that those implicated in this threat will be held accountable to the fullest extent of the law.
This was an act of antisemitism; a cowardly act of intimidation and an attempt to silence our Jewish beliefs. For far too long Jews have been mentally and physically intimidated in spaces online, at schools, universities and in our community. Virulent antisemitic rhetoric breeds extremism and has no place here.
Over the past two decades, JewishColumbus has developed a robust and thoughtful approach to community security.  In partnership with multiple national and local security experts, JewishColumbus works to leverage any and all Columbus Jewish community resources to help ensure the safety of our community.
For obvious reasons, we cannot go into detail regarding all of our security initiatives; however, these are key features that comprise our security stature:
We have encouraged the implementation and/or expansion of the use of security camera systems, access control measures, alarm systems and exterior physical security upgrades (bollards, fences, security landscaping, etc.), while continuing to maintain a friendly and inviting community atmosphere.
We have worked with local law enforcement partners to provide both safety training and exercises to prepare our facilities to properly respond in the event of an adverse action.
We have opened many of our facilities to our law enforcement partners to provide "familiarization tours" to allow law enforcement entities to get to know our buildings and our staff members. This initiative has enabled law enforcement to familiarize their officers with our facilities' layouts and dimensions, so they will have greater knowledge of our buildings should they need to respond in an emergency situation.
We have provided funding to hire special duty law enforcement on-site at our Jewish schools and institutions.
While JewishColumbus has taken great strides to improve overall community security, we must all continue to encourage, develop and promote a "culture of security" throughout the entire community. Security is an objective that requires the vigilance of everyone working together. Thus, it is crucial that we continue to collaborate to maintain the integrity of our security posture and explore new, innovative ways of keeping ourselves safe.
We request your continued commitment and support. Our collective community security is only as strong as each of our organizations. Because JewishColumbus was here yesterday with your support of the Annual Campaign, we are able to help keep our community safe.
We are a proud and diverse Jewish community. We stand resolute against antisemitism and remain committed to safeguarding our schools and institutions. It is our right to live peacefully as Jews and we will not cower to intimidation. We are here to stay.
Please know that JewishColumbus is here for you. Let us hold and lift each other up, now and always.
Shabbat Shalom,
Joel Marcovitch, President and CEO