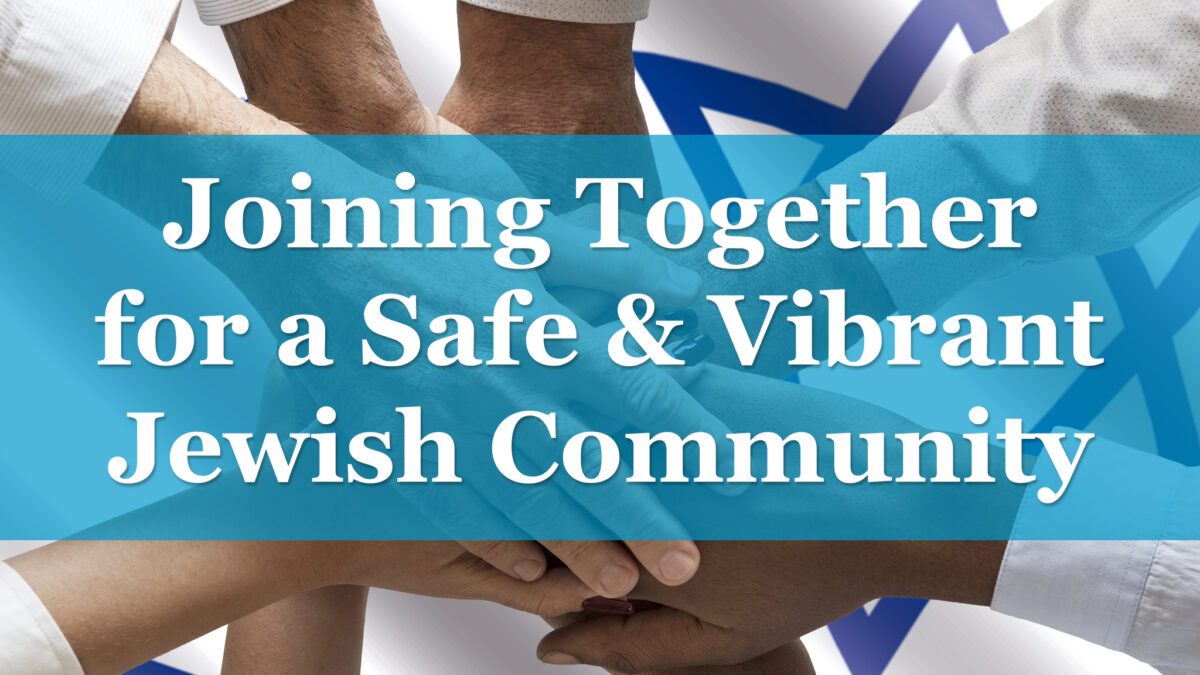 Our mission at JewishColumbus is to maintain a strong and vibrant Jewish community in Columbus and beyond. With our funding, programming and agency partnerships, we provide a space where every member of our community can feel a sense of safety and belonging. One of the fundamental ways through which we achieve this is our unwavering focus on ensuring the physical security of our members. 
Coming together to protect our community is as important as ever following the heart-wrenching hostage situation in the Congregation Beth Israel synagogue in Colleyville, Texas. While thankfully no members were harmed, it serves as a reminder of the importance of security for marginalized groups.
As "the central hub for security of the rest of the local Jewish community," JewishColumbus maintains contact with local and national law enforcement partners to monitor threats and aid in crisis response. Justin Shaw, Senior Director of Community Relations, acts as the security director for Jewish and other minority groups throughout the city, managing relationships with our liaisons from local law enforcement and connecting that to our community.
"Our law enforcement partners have been working with us for so long, they know our community," says Shaw. "That's the Columbus way — our strong public-private partnerships offer us a unique advantage."
Shaw focuses his efforts on three main areas: community relations, mitigating risk and crisis response. The relationships JewishColumbus fosters with national organizations, like the Secure Community Network arm of the Jewish Federations of North America, and local organizations, like Ohio Jewish Communities (OJC), are critical to security, enabling financial support through fundraising, lobbying and grants.
"Through statewide collaboration, Ohio communities have really banded together to build strong relationships with our elected officials," says Shaw. "We also work together on a global scale — Israel has so much to offer from a security perspective; there's a lot to learn from them."
Since 2015, JewishColumbus has facilitated four missions to Israel, collectively attended by 42 legislators and staff members and 26 business and civic leaders representing the Jewish community statewide. When the legislators see the security tactics in Israel, they're incredibly impressed and inspired to implement similar measures in Ohio. 
Because of the work that OJC does, and with the partnership of Shaw's peers who oversee our Jewish community relations councils, JewishColumbus has secured over $4 million in grants since 2017. This has enabled us to equip our partners with target hardening measures, which include physical improvements such as cameras, bollards and ballistic sheeting on windows. These funds help more than just the Jewish community, as they are available to any nonprofit at risk of a terrorist threat.
"It's really been an amazing help for our community, because security is very expensive," says Shaw.
Shaw points out that "the government grants definitely lessen our burden, but by no means do they replace the burden that we still need to give." Thanks to the donations we receive to our annual campaigns, JewishColumbus also provides over $1 million in funding every year to mitigate risk in our community. These funds go to special duty officers who patrol preschools, day schools, religious schools and synagogues to act as a deterrent to crime or terrorist threats. Additionally, Shaw works with local organizations to coordinate security training that entails both threat assessments and tailored security protocols unique to each building.
"Who knows how many situations are prevented here because we have those law enforcement officers at the door."
In order to keep our community vibrant and safe, we keep our finger on the pulse of our community's most pressing needs. Donations to JewishColumbus are critical to our continued support of security initiatives.
***
If you'd like to join our fight against antisemitism in our community, please consider contributing to our annual campaign. 
To those who have already graciously contributed to the 2022 JewishColumbus Annual Campaign, thank you! We are incredibly grateful for your support.