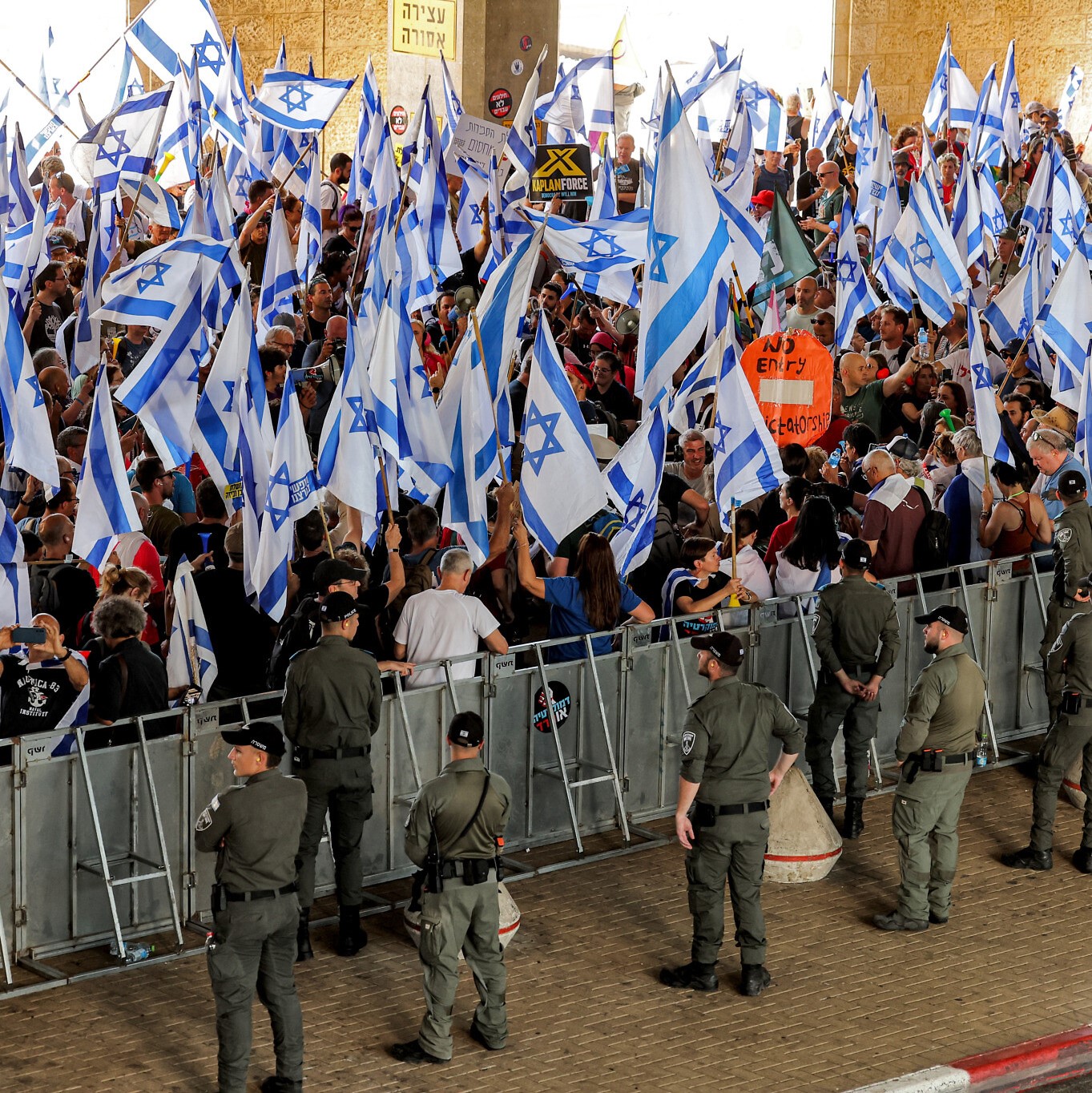 JewishColumbus and its Jewish Community Relations Council is committed to keeping you up to date on the latest developments in Israel. Please check back here for the latest updates. For links to more resources regarding Israel please click here.
July 11, 2023 10:55am EST – Update from Jewish Federations of North America:
Today has seen very high tension in Israel, with perhaps the most significant developments since the new government was formed just over a half a year ago. The debate and protests over the issue of proposed judicial reforms intensified dramatically, with protest groups launching a "National Day of Resistance" as a first bill moves through the legislative process.
Last night, the controversial Reasonableness Standard Bill passed in a first reading in the Knesset (in a 64 to 56 vote). Today, it will be brought before the Knesset's Constitution, Law and Justice Committee, where it will be further debated in preparation for a second and third reading in two weeks, after which it would become law.
If passed, the bill would block Israel's courts from applying a "reasonableness standard" to decisions made by elected officials. This standard was established by the courts decades ago, and allows judges to strike down decisions made by the prime minister, ministers or other government officials if they believe the decision is beyond the scope of what "a responsible and reasonable authority would do." (See more about the bill and its background here and here).
Examples of this clause's use in the past include a case in which Finance Minister Avigdor Liberman decided to unilaterally end funding for day care centers for some parts of the Haredi sector in the middle of a school year (the Supreme Court overturned his decision) and more recently, the prime minister's decision to appoint Shas Party leader Aryeh Deri as Interior Minister and Health Minister. (Deri has been previously convicted by the courts, and according to the Supreme Court, had pledged not to re-enter public life; a claim Deri denies. See more here). The actual cases in which the courts overturned government decisions have been few, averaging less than one a year in the past quarter century.
The proposed law has been softened from its original version. The new version, currently before the Knesset, still allows judges to strike down decisions by unelected government officials, but would prevent it from having oversight of decisions of ministers and the prime minister. Opponents of the proposed change see this as giving unbridled power to elected officials, without appropriate checks and balances.
Tens of thousands of Israelis began protesting early this morning. Dozens of major roads in the country have been blocked, including the main Jerusalem – Tel Aviv Highway, one of the country's busiest and most important corridors and the alternate route into the city – 443 – along with the Ayalon Highway in Tel Aviv. Police used water cannons and dragged demonstrators away from the Jerusalem – Tel Aviv Highway, and one protestor suffered a head injury from the high-pressured water. (See video footage here). Other protestors are attempting to disrupt activities at Israel's only major international gateway, Ben Gurion Airport. In response, Energy Minister Israel Katz called for the arrest of a protest leader "for sedition and disruption of public order." Police have detained at least 40 people for disruptions.
A crowd of several hundred people have also gathered outside the Histadrut Labor Federation Headquarters in Tel Aviv, demanding that Israel's largest labor union declare a general strike. While the Histadrut, which has the power to shut down large sections of the economy, has not yet joined today's protests, its leader, Arnon Bar-David, warned of possible action today.
Meanwhile, some 300 IDF reservists in cyberwarfare units have issued a letter saying they will not show up for reserve duty in protest against the proposed reforms.
As most of you know, shortly after the new government was sworn in just over six months ago, it announced proposals to launch a series of sweeping reforms to the way the country is governed. (For details, see Jewish Federations' Resource Page here). The past half year has seen much back and forth on the issue, with the protests increasing and decreasing in intensity, according to the government's changing stance. Notwithstanding Prime Minister Netanyahu comments to English-language media that he intends only to move ahead with those aspects of the reforms where there is widespread consensus (see, for example, his interview with the Wall Street Journal here), members of his coalition have made contradictory statements, and the process of turning some proposals into law continues, spearheaded by Netanyahu's Likud party.
Israel's President Isaac Herzog has been working hard to get all sides to agree to a compromise proposal, and to return to the negotiating table.  For now, however, those talk have been halted. Jewish Federations have repeatedly called on all sides to join the talks under the President's auspices (see here).
For a previous JCRC post from March, 2023 concerning the Judicial reforms please click here.